Asking us
how far can we reach
;o
At the top right hand sign to
HSBC treetop walk
(;
Some
handdrawn map
;o
We took the
blue route
okay ;/
4.4km
moar
....
The
not to do-s
;3
Smoking wood wich was
emitting smoke
;o
On the shaky trail ;/
We walked
3 km
!!
Seee a
snakeee
?
Nice warning
;/
Future
actor and actoress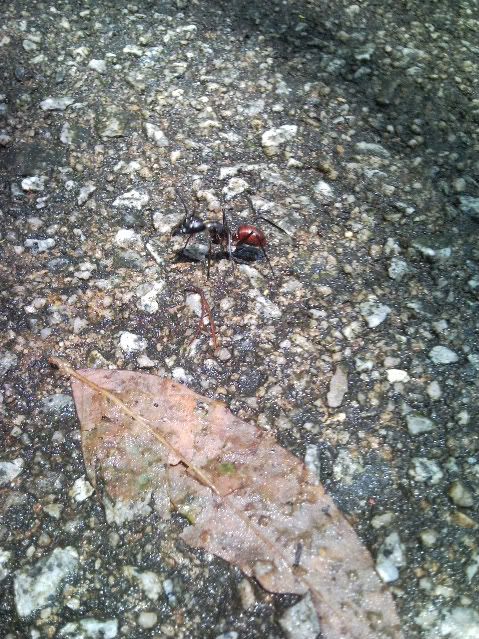 Big ant wif
Fat butt
;x
Edmund on the shaky bridge
(;
PLaying on the bridge
;x
The
pig poses
;x
The
long flight of stairs
);
The epsilons
(Ginnette
,
Puikwan
,
Xueni
,
Shunan
and
Edmund
) met at bm interchange.
We took 132 to mac ritche reservoir.
On the bus we played wif our ds agn ((;
When we reached, we walked ard before we figure out how we can get started.
We den started walking up a bridge and asked some psserby to take pics.
We walked up a route and reached the entrance of the climb.
Asked more
passerbys to take pics
for us (;
Sang random songs like
the climb
whileclimbing.
Went up the rocky trail and saw some big ants and insects.
There was once i saw a
skink
run past away and xueni scream snake!
I tot she saw the skink and
screamed snake
.
Bud i was wrong, the snake was blocking the
path, green and skinny.
Waited for the snake to slither away before we continued.
We reached a dead end before we reached the treetop walk.
Waited for passerby to reach and we tok another grp foto.
We walked the suspended bridge and took lots of fotos.
As edmund and puik was behind me, i ran alil and start taking foto.
They had to catch up wif my speed and pose before my camera captures the pic.
We finshed the walk and went to one of the toilet place to rest.
Xueni made us
scrambled eggs sandwiches
, she had to wake up earli in the morn to make
THANKS ALOT XUENIIIIII ((; !!


Walked down the trail via some road( i forgot)
Asked some passerby to confirm whether we were on the right route.
Den saw some scary monkeys as well.
Made our way out and took bus 166 to bugis.
We ate Icemonsterrrr (;
as xn was craving for mango ice like a pregnant lady x;